Deborah Bigeleisen - The Flower, The Muse
1/20/2022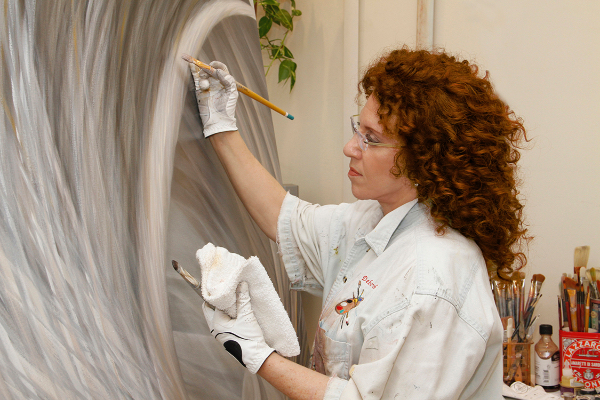 deborah bigeleisen
THE FLOWER, THE MUSE
For many of us, flowers represent nature, beauty and growth. For Deborah Bigeleisen, they symbolize even more; a devotion of expression and a deep need to uncover the unknown. She says that flowers are in her DNA.
An artistic career dedicated to immortalizing the mysterious beauty of flowers holds a unique symbolism that can be applied to the artist. In Deborah's efforts in unlocking the timeless grace of florals, she unlocks her own artistic power. After decades of building her craft, Deborah Bigeleisen has achieved widespread recognition in the art world. She has been featured in countless solo and group exhibitions, and is the recipient of several awards including 1st Place in the Flowers of Spring competition in 2015. Most recently, Deborah's work was featured in The American Reporter, alongside an article profiling her career. One could say that after all of this experience, Deborah has bloomed into the artist she is today.
Deborah's process is deeply personal. She works exclusively off of her own photographs of flowers, then she brings them to life on the canvas. She is the curator of the entire scene, start to finish. She has mastered the balance of realism and abstraction, her work is dreamy yet lifelike. To experience her work is to understand the way that she sees the world. She is realistic but an eternal optimist - seeing the beauty in everything around her. Her latest works are done exclusively in acrylic paint. This allows her the chance to be in full control of her medium. Her brush strokes are confident and precise. Her understanding of the importance of contrast and bold colors is unmatched.
Each painting by Deborah Bigeleisen is a dance of elements. Her signature style involves incorporating movement through her addition of light and delicate wisps that cascade around her bold florals. This provides a new and fresh component to the genre of floral paintings. When viewing her work, the eye mimics the movement of the wisps as the entire composition is taken in. It is a precise plan of Deborah's, she knows what elements the eye wants to focus on and she knows how to capture a viewer and leave them impacted by her work for time to come.
Deborah sets high intentions for herself as an artist, constantly pushing the boundaries of what is possible through visual art. "My ultimate goal is to create paintings that not only captivate the viewer at the onset, but contain the power to remain provocative and engaging for years to come." She likens her philosophical approach to art to that of many masters who came before her; she loves what she paints and paints what she loves. Having spent much of her childhood captivated by flowers and natural forms, it is no wonder that Deborah Bigeleisen carried that fascination with her into adulthood and her legacy in art.