Alma Ramirez- Capturing The Poetry of Nature
12/21/2021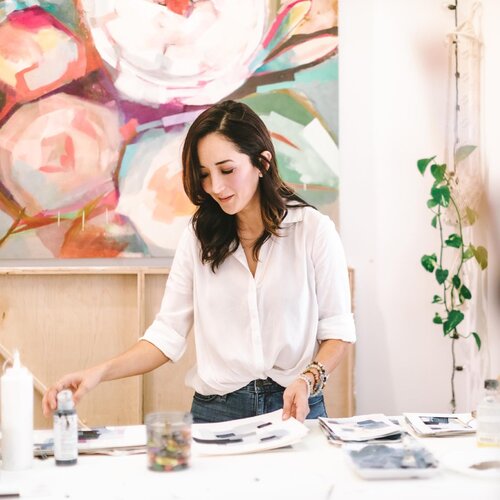 alma ramirez
Pixelating Nature
Alma Ramirez has always considered herself a student of nature. She has a long history of being inspired by the natural environment around her. She now lives in Saint Augustine, Florida where she takes in the richness of the sea, the atmosphere and the interaction of color and movement. She brings all of these elements to life on her canvas. The result is art that is inviting, lively and bold.
Alma grew up in Mexico and received her Bachelors degree in Fine Arts from the Instituto de Bellas Artes. She now spends her time exploring the poetry of nature in her subtropical environment. Each painting of Alma's is unique and engaging. She has created her own signature style of pixelating the images she is creating, and adding bright and juicy tones to the elements that provide a refreshing outlook on familiar scenes.
She describes the infusion of nature and technology through an accident that took place while she was using a digital camera to capture an image. "I accidentally fumbled my camera into the water while capturing a panorama. I was disheartened, but the images on my card were wonderfully broken and distorted, showing me the landscape from a different perspective that deeply resonated with me as an artist and storyteller." It was in that moment that an idea bloomed, and her signature style was ready to take flight.
Alma achieves this pixelated property through applying short, choppy brush strokes onto the subject matter. This technique creates a subtly distorted effect on the flowers, waves, boats and plants that she paints. The spliced arrangement of brush strokes allows for an interesting experience when viewing her artwork. It no doubt has a digital element, but impressively does compromise of the authentic painterly style.
Alma's process includes lots of layering of colors onto canvas or wood panel. She describes this as articulating the emotions and energy from a given scene. It is through this process that she is able to communicate familiar scenes in an invigorating new way. She sees herself as not just an artist but a storyteller as well. She treats the viewer as a reader in a way, guiding them through her paintings with her tranquil compositions, energizing colors and sophisticated application.
"From my studio in St. Augustine, Florida, I recite the poetry of nature—sounds of the ocean, smells in the air, dappled light on the water, colors warmed by the sun— painting arrangements of tones and shapes that speak of emotions, beauty, and peace."
-Alma Ramirez