Vincent Cordo- Illuminating The Modern Woman
11/17/2021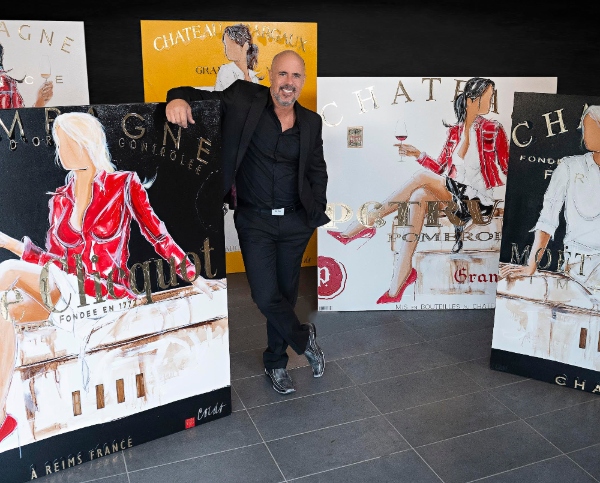 vincent cordo
One of the most distinctive artists of the moment, Vincent Cordo has dedicated his craft to depicting the modern woman through the most elegant lens. Often seen lounging, enjoying a glass of wine, or surrounded by luminous brand names, Cordo's women are a symbol of strength and confidence. The women in Cordo's art are without any facial features, this is a specific intention of Cordo's. He aims to allow all women to be able to see themselves in his work, this is made possible through allowing the identities of his subjects to remain unconfirmed.
Born in Saint-Hyacinthe, a young Cordo crossed paths with well known Montreal painter Lysanne Pépin. Cordo says that this interaction left him completely changed forever. This exchange awoken the artistic passion that Cordo still maintains today. After that, it was seeing Toulouse- Lautrec's paintings that reaffirmed his artistic ambitions. An artist was born.
Through over a decade of creative exploration, Cordo would find his footing through expressing the female character. Cordo is hyperaware of the many different facets of life that the modern woman must fit into, even just in the course of one day. "The modern woman needs to be professional by day, mother in the evening, and mistress when night falls. Modern woman must juggle with many different lives. The modern woman is aware that life today offers nothing permanent. She must be in constant movement and always alert."
The atmosphere within Cordo's paintings is truly blissful. There is a luxurious element to each scene, but it always seems to be created by, or at least emphasized by the female character. There is an undeniable sense that she is in charge of her surroundings and ultimately, her destiny.
Cordo utilizes mediums such as varnish to emphasize the luxury of his subject matter. The bold colors, the familiar fonts of luxury brands of wine, and the fashionable attire all contribute to Cordo's signature style. Viewing his work is always a powerful experience. It's as if these women he created are so distinct and well-formed that they are characters authoring their own story. They allow the art to truly take on a life of its own.