John Schuyler - Layers of Expression
11/12/2021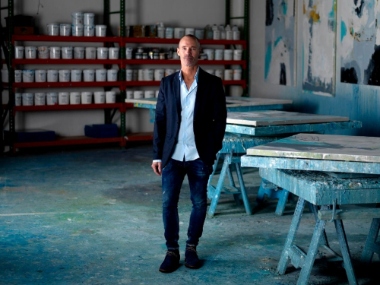 JOHN SCHUYLER
Artist John Schuyler has spent his career exploring the space between the artistic process and art itself. His work embraces the nature of creation through layering, pouring, scraping and removing, leaving traces behind each time. This is what makes viewing his art such a rich experience. There are visible layers to his paintings, each one inviting you to look a little deeper until eventually, you are fully submerged.
John moved to Florida from New York in the 1990's. He accredits much of the inspiration behind his work to the environment, particularly where the earth meets the sky. This idea of a horizon is evident in much of his work-he is not afraid to create a divide within a canvas and the results are both dimension and depth.
As his experience has developed over the years, Schuyler says that his approach has evolved too. "The biggest difference is my approach," says John. "Rather than undertake each painting with a predetermined idea of the outcome, I've started to let the pieces unfold on it's own and, as a result, the work has come to me a lot easier." "I have experienced an epiphany in letting the process guide me in revealing the painting, rather than "painting" the painting." This new creative perspective has opened the doors for a variety of series to bloom. Schuyler's work is consistent yet incredibly versatile at the same time. His portfolio truly includes something for everyone.
Schuyler has shared that his ultimate goal as a creator is to engage his viewer. His work has entered the homes of countless happy clients and he is showing no signs of slowing down. Schuyler is constantly at work producing new paintings. Admittedly, each experience with the canvas is unique, Schuyler suggests that sometimes obstacles have to be overcome. "At other times it's very passionate and in the moment, not questioning the end result, allowing it will take me where it wants to go. My work continues to evolve over the years and it has undergone numerous transformations."
Schuyler's studio is designed to maximize serenity and concentration, and these elements certainly translate into the finished product without fail, every time. Being a spectator of Schuyler's career and a viewer of his work are both deeply rewarding. He is truly dedicated to evolving his craft. "(My) ultimate intention is to grow as an artist and that my work evoke an emotional in the viewer."