Making Waves with Anna Sweet
10/1/2021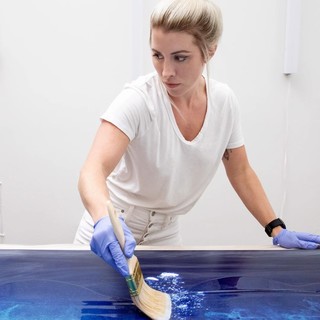 Artist Anna Sweet grew up as one of nine children above her mother's art studio in Charlotte, North Carolina. Subsequently, Anna's relationship with art began at a very early age. As an established artist, Anna expresses the sensuality and elegance of the feminine form, which she often depicts fully submerged in water. Combining both photography and painting, Anna approaches art from a limitless point of view.
She engages minerals like mica, diamond dust, and glass directly on the image. Her mixed-medium approach offers an otherworldly experience. Smooth, glossy foundations are sprinkled with bubbles, crystallization, and luxurious shimmer, creating a multidimensional experience for the viewer. Through these elements, Anna's body of work reveals to us the graceful beauty of femininity. There is a luminous presence to all of her creations that never fails to compel and intrigue the viewer.
In addition to her underwater nudes, Anna has recently been exploring the dance of the ocean waves along coastal shorelines in her series Liquid Waves. She reimagines this familiar environment onto the canvas in the most dreamlike fashion. Anna taps into her personal experiences photographing these environments, then reimagines them in the studio, breathing new life into these aquatic memories. There is a lacing and webbing effect that is achieved through mixing resin and acrylic pigments in several layers. Often from a bird's eye view, these seascapes create the feeling of floating or flying over the turquoise waves. This perspective paired with her effortless application provides a truly serene experience, every time.
In more recent years, Anna has moved to Key West to be closer to the ocean. Amidst the sunshine and waves she works in her studio and focuses on her flagship gallery.